Scouting is a not-for-profit organization. Parents involved in the various sections, whether it be Venturers, Scouts, Cubs or Beavers, donate their time on a strictly voluntary basis. The individual registration fees pay for part of the Scouting program; however, it is through fundraising that we raise the balance of the funds that are necessary to make the programs for the 433rd Venturers, Scouts, Cubs and Beavers a complete success.
Our fundraising activities are designed to teach the children to "earn" the privilege of participating in such events, not simply have money donated by parents. Therefore, they participate in one form or another in each of our fundraising events.
Our key fundraising activities include:
Your past and continued support in our efforts to fund our programs at the 433rd are very much appreciated.
Apple Day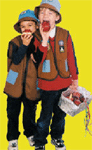 Apple Day is the traditional Scout fundraiser.  It takes place every October after Thanksgiving.  Scouts, Cubs and Beavers will be out at local stores and malls with decorated apple baskets asking for your support.
Another major fundraiser is the sale of Christmas trees during the first 3 or 4 weekends in December leading up to Christmas. Why not drop by our tree lot in the parking lot of Islington United Church (near Burnhamthorpe and Dundas) to pick up your tree this year. By doing so you will be supporting the youth programs and activates of 433rd Toronto Scouts, Cubs and Beavers.Watch for updates on this site in the fall, which will provide details about the days and times that the trees will be available.
During the spring we will be taking orders for Maple Syrup. (We have a few bottles left over if you're running low).